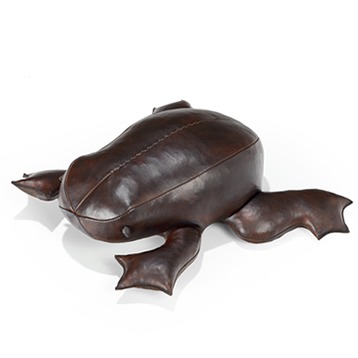 Code:

ENG/7004

Dimensions (mm):

440

(L) x

510

(W) x

170

(H)

Weight:

Approx

3

KG
A quirky version of a leather frog. This frog sits low to the ground and is suitable as a decorative accessory or low footrest.
Main product features are:
Top grain "unfinished" cowhide leather
Filled with woodwool (shredded pine wood)
Hand filled to create shape and features
Hand stained mahogany brown
Suitable for use as a low footstool
Additional product features are:
The leather is top grain British sourced cowhide leather tanned specifically for our purposes. The leather is "unfinished" ie it has not been coated, filled or embossed in any way. It is left to develop natural scuff marks reflecting the wear and tear of life.
The interior is firmly filled with woodwool (shredded pine wood) by hand and worked to give the shape of the animal. The product can be used as a low footrest but please be aware the product is not built to furniture standards and is primarily a decorative piece for the home.
As no two pieces of leather behave in the same manner and each piece is hand made, no two animals are the same and sizings given are approximate.
Once assembled, the leather is stained to give an "antique" effect in mahogany brown, then waxed and polished to give a luxurious finish. The stain used is water based and can be susceptible to water damage as the leather takes time to absorb the stain. Please apply coats of clear wax polish in its early life to help seal in the stain and keep the leather in good condition. Nikwax Waterproofing wax is an excellent product and can be bought on our site under CARE PRODUCTS.