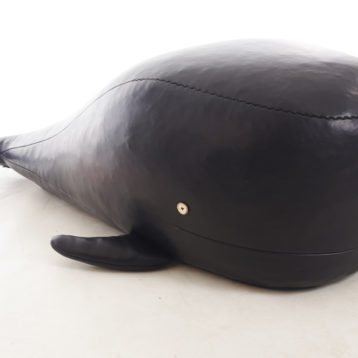 Code:

AQU/7402

Dimensions (mm):

95

(L) x

65

(W) x

35

(H)

Weight:

Approx

10

KG
New for 2018! EXCLUSIVE to Omersa and Company, on line only.
Omersa was commissioned to design a large whale for a London hotel project. The design was based on a leather whale made in the 1950's (not by Omersa). We were so pleased with the outcome that it has been added to the Omersa range.
Main product features are:
Top grain "unfinished" cowhide leather
Ivory leather eye
Internal wooden frame
Filled with woodwool (shredded pine wood)
Hand filled to create shape and features
Hand stained mahogany brown
Suitable for use as a footstool or occasional table
Overall dimensions are L 95 cm x W 45cm (excl flippers) x H 35cm. Weight 10kg
Ships as a "large parcel". Obtain shipping quote from Omersa.
Additional product features:
The exterior of the whale ,including the underneath, is made with top grain cowhide leather sourced and tanned within the UK. The leather is "unfinished" ie it has not been coated, filled or embossed in any way. It is left to develop natural scuff marks reflecting the wear and tear of life.
The whale shown in the picture has been stained BLACK but should you prefer our traditional mahogany brown, please specify in the COMMENTS box when placing your order. The "eye" is in ivory leather attached with a cross stitch.
There is a sturdy internal wooden frame at the top end of the whale which enables the product to be used as a footstool. It can be used as an OCCASIONAL seat/table and the frame will withstand average adult weight. BUT please be aware it is not built to furniture standards and is primarily a decorative piece for the home.
Woodwool (shredded pine wood) is hand worked around the frame and down the tail to give the shape of the animal. This process is time consuming and physical! As no two pieces of leather behave in the same way and each piece is hand made, no two animals are the same and sizings given are approximate.
The whale weighs approximately 10kg and has overall dimensions of L95cm x W45cm (excl flippers) x H35cm. It is a large and really fun piece!
Due to its size, shipping costs need to be quoted for depending upon the country destination. We will obtain a quote and reply back to you with a price.