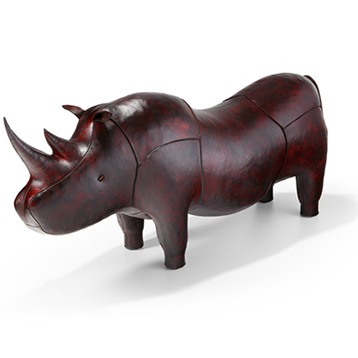 Rhinoceros – Super King
Rhinoceros
Our super king leather rhinoceros is a truly magnificent animal. At 1.6 metres long, he is something the whole family can sit on! The height to the dip in the back is approx 60cm and to top of head by the ears approx 75cm. A real collectors item – these "big boys" are made on a limited basis only and require the skills of our most experienced staff. Please allow additional time for make up and delivery when ordering. The shop is unable to quote the cost of delivery outside of the UK. We will obtain a quote for you based on the delivery address given and report back.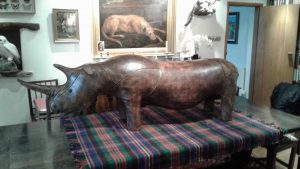 Superking Rhinoceros circa 1960's
Code:

AFR/0201

Dimensions (mm):

1650

(L) x

520

(W) x

800

(H)

Weight:

Approx

40

KG
Product Features
The Omersa animal is primarily designed as a decorative accessory for the home and office. The larger sizes (described as large, medium and standard in size order) can be used as a footstool whilst the smaller pieces (described as small and miniature) are more suitable for decoration.
The internal metal and wooden frame will withstand average adult weight and a certain amount of rough play but please be aware the product is NOT built to furniture standards.
Main product features are:
• Top grain "unfinished" cowhide leather which will develop natural scuff marks reflecting the wear and tear of life
• Internal metal and wooden frame to give support and weight
• Hand filled with woodwool (shredded pine wood) to create shape and features
• as each piece of leather behaves differently no two animals are the same and sizes given are approximate
• Hand stained mahogany brown, waxed and polished
• "eyes" made from leather
Delivery Options
• Worldwide delivery
• Cost of delivery is calculated based on delivery country, weight of product and size of packing box
• Delivery to most locations is by Fedex, using Fedex Next Day service (UK) or International Economy service outside of the UK
• Delivery to Australasia, Middle/Far East, South America is by ParcelForce, Global Priority service. NOTE: Delivery in destination country is by ParcelForce's appointed country agent
• option to arrange own collection available at checkout
• VAT raised on orders delivered within the EU at 20%
• VAT raised at 0% on orders delivered outside of the EU; local taxes/duties payable upon entry in to delivery country are for the account of the recipient
Product Care
To keep your animal in the best of health for a long and happy life, may we suggest the following care tips:
Dust and apply a coat of NIKWAX Waterproofing Wax regularly (say every 6 weeks). DO NOT USE any spray or liquid polish as these will damage the colour
Keep your animal dry and away from water. Regular coats of NIKWAX will help waterproof your animal against water damage
Keep your animal out of direct sunlight and or direct heat to prevent leather from drying out
Supervise very young children playing with an animal. They have a tendency to put tails, ears etc in their mouth and the stain may come off. NOTE: the stain is NON TOXIC
The product is designed primarily as a decorative item for the home. It is NOT built to furniture standards and the internal frame will only stand a certain amount of rough play!
If the colour of your animal does fade and you would like to darken up, please purchase a bottle of stain to apply. To get best results, Nikwax should be applied after re-staining.