The worldwide success of the Omersa product has led to many copies appearing over the years which attempt to replicate our classic designs.
There were most certainly leather animal footstools made during the mid 60's through to the late 80's by other manufacturers using the same methods of production as Omersa which look and feel very much like the Omersa animal.  We consider these earlier pieces to be just as authentic and treasured as the Omersa product with subtle differences in the styling.
So, do you how to spot an Omersa fake?
However there are also inferior copies of leather animals on the market which do not have the same level of craftsmanship and which are often described as made by Omersa.
In addition there are leather animals which are inaccurately described as being an Omersa and which have completely different styling and methods of construction. There are many auction platforms riding on the Omersa name but which are not selling a genuine Omersa product. So BEWARE.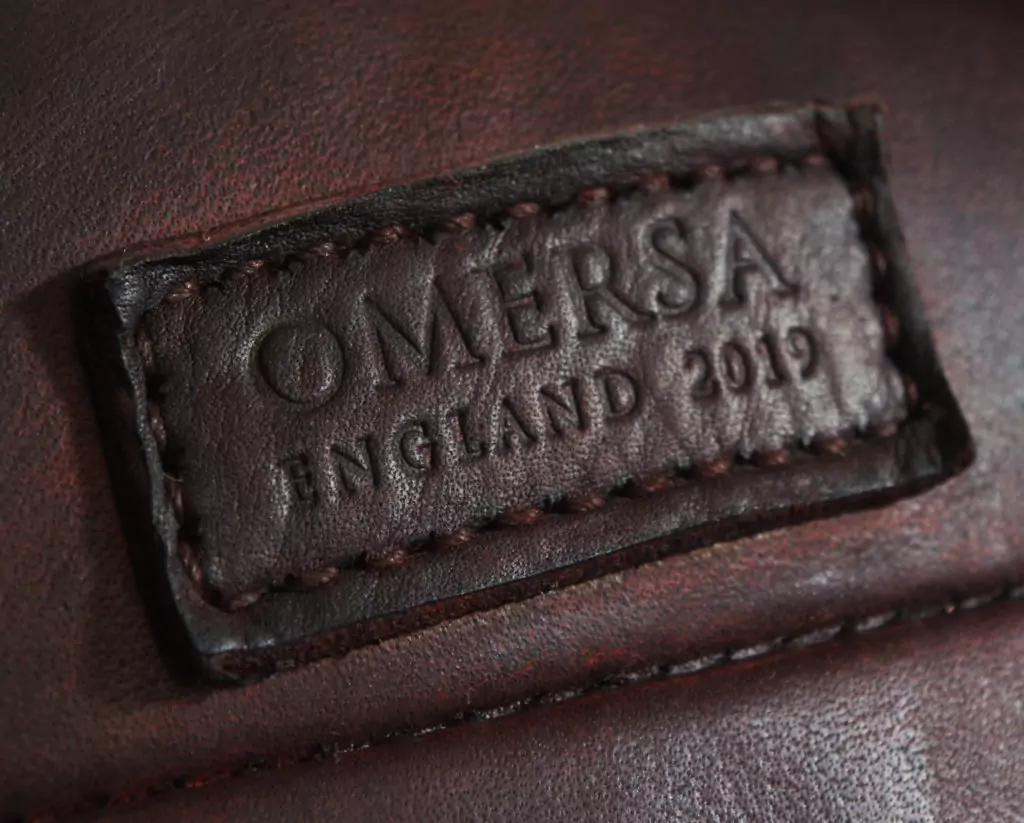 OMERSA badge
Omersa is the only surviving member of the original group of leather animal footstool craftsmen and today has an envious reputation for producing a product with years of knowledge and expertise. Since 2017, every animal we produce has an OMERSA badge sewn on to the underbelly along with the year of manufacture. This leaves no doubt as to its provenance.
Prior to this date there is no permanent marking on the animal to identify it is an Omersa. We do however have extensive in house expertise, built up over many years, which enables us to make an educated identification.
A current day fake of an OMERSA
There are current day copies of the Omersa product which have not been made with the same level of craftsmanship. These pieces are often referred to as an Omersa animal on the internet. BEWARE. These are not vintage pieces. They are modern day reproductions. See the picture shown as an example.
The product is made in India using an internal mould over which a thin layer of leather is stretched and glued into place. There is an extensive range of animals available with this styling.
How to spot an Omersa fake
Key Characteristics of an Omersa animal
Our methods of production and styling have remained unchanged since the first pig made by "Old Bill" in 1927.
What has changed over the years however, is the move from pigskin to cowhide, as well as the sizing, pattern adaptation, styling of parts etc.
It can be difficult to identify a vintage Omersa from the original group of manufacturers, but if you look out for our main key characteristics, you'll know if you've found a genuine Omersa.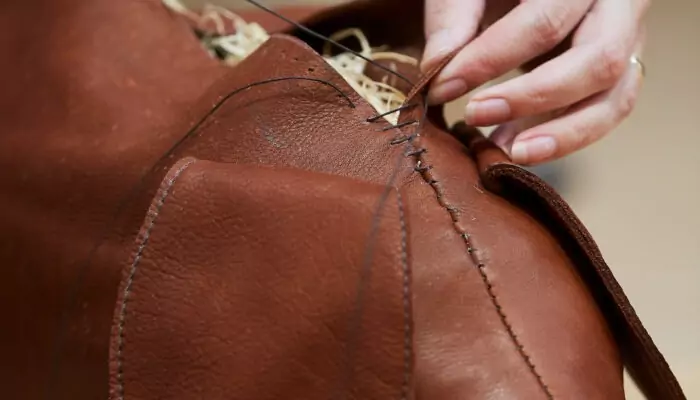 Stitching
All of Omersa's animals are machine-sewn along every seam except the backbone.
Our hand stitches along the backbone are evenly spaced, longer in length than machine stitch and have a slight curve to them.
Anything too wavy, gappy or zig-zagged is not an Omersa stitch.
Any leather animal you find that does not match this style is likely to have been made by another manufacturer.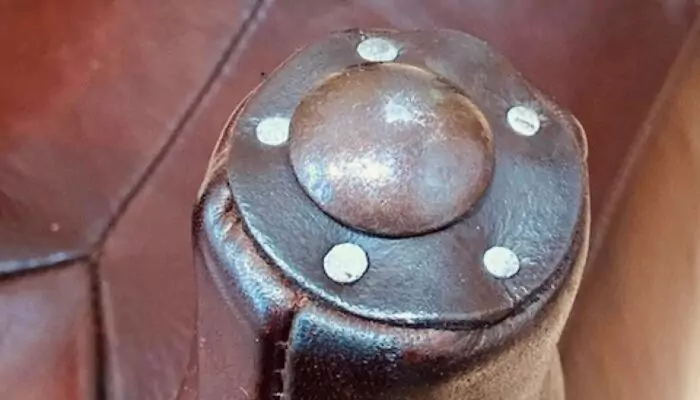 Footpads
All Omersa pieces, with the exception of our miniatures, have a footpad on the underneath of the foot. The miniature pieces just have a central pin.
Our round brass pin in the centre, as you can see in the image shown, is very distinctive, and you can be sure that every Omersa animal will have one on each foot.
Some vintage animals do not have footpads with nails or a pin. The round pad is glued in to place and in other instances there is a flat block underneath the footpad. These are indentifiers that the product has NOT been made by Omersa originally.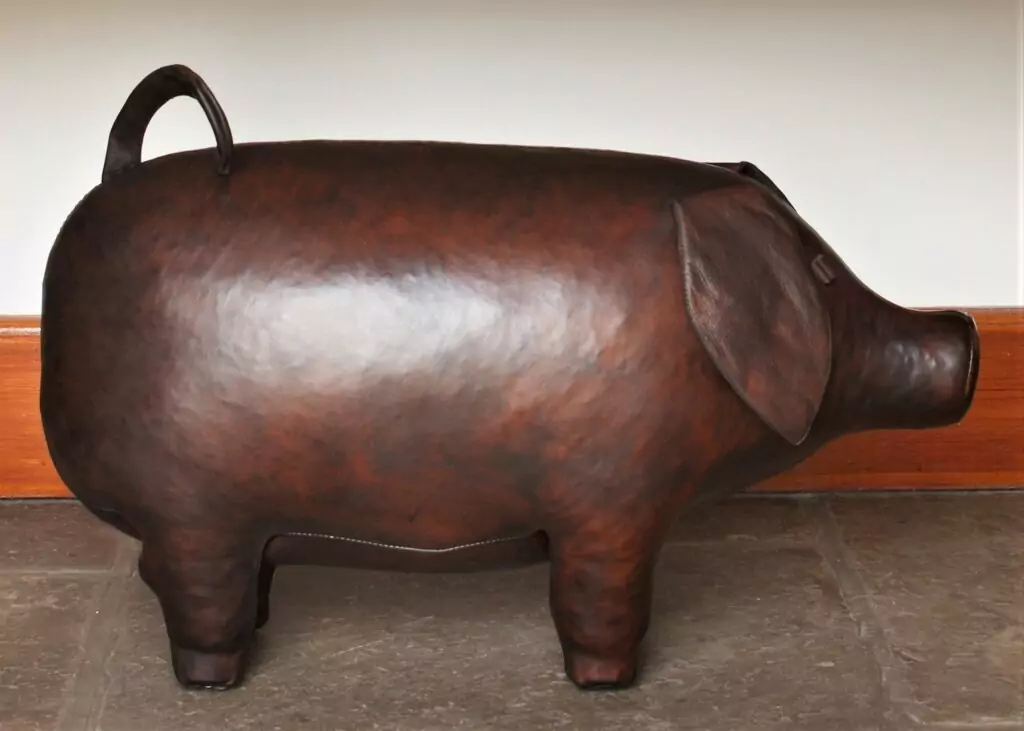 Colour and Natural Markings
Each piece is hand stained with our  specially formulated colour – a mahogany brown with red undertones.
We make no attempt to hide or "fill" natural blemishes in the leather, as we want to maintain a natural look.
We leave the leather in an "unfinished" state allowing it to look very natural like our own skin and to age with the wear and tear of life.
If you are looking at a genuine Omersa, you will be able to see the natural markings and grain of real cowhide leather.
Eyes 
The "eye" of the animal is made up from offcuts of leather. This rolled up style has been used throughout our history and is a key feature of an Omersa animal.
NOTE: our miniature animals and some of our aquatic range have eyes made from knots of leather.
Omersa has NEVER used round flat pieces of leather to make the "eye"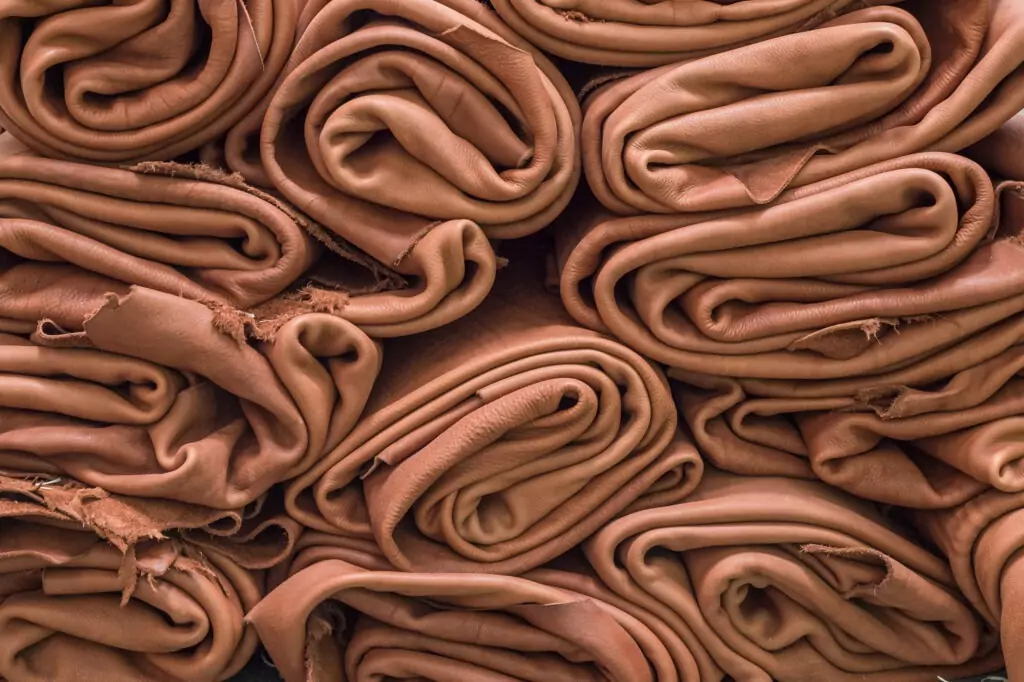 Leather Quality
The essence of an OMERSA animal is reflected in the quality of the leather we use.  We work directly with our UK tannery who prepares hides to our specification.  The leather is left "unfinished" meaning it has no shiny top coat applied.
We do not use off the shelf general purpose upholstery hides.
If you are looking at a genuine Omersa, the leather will feel supple and tactile. It will have a light sheen from the wax polish we apply (this can be buffed up to a shine), with a mottled finish, allowing the natural features of the cowhide to show through.
The Omersa Promise
Our Omersa animals are crafted with many years of knowledge, skill, and craftsmanship and so it's important to us that when you are looking for a genuine article, that's precisely what you get.
If you follow our guidance and choose an authentic Omersa creation for your home, you will have purchased a leather animal that will stand the test of time and continue to look beautiful for many years to come.
Can you spot an OMERSA fake?
To help you spot the non-genuine products out there, below are images of a small selection of leather animals that have not been made by Omersa.
REMEMBER – even if the animal you are looking at says "Omersa" on it, it may not be authentic.
And beware of Auction sites that describe a  leather animal as "Dimitri Omersa Abercrombie and Fitch". This is a nonsense title and is a lazy reference to the days when the Omersa animal was stocked by the former Abercrombie and Fitch in the mid 60's through to the 80's.