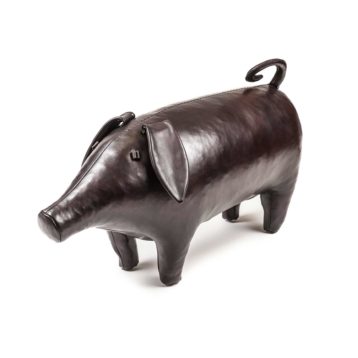 Code:

ENG/1702

Dimentions (mm):

900

(L) x

300

(W) x

420

(H)

Weight:

Approx

10

KG
Celebrating 90 Years
To celebrate our 90th Anniversary, we have designed a limited edition replica of the original Omersa pig – 1st made by "Old Bill" in 1927! Production is limited to 90 pigs. The issue number is sewn on to the belly alongside our new OMERSA badge which gives the year of manufacture.
The picture below is of a pig dated 1931. They had very long noses and body. Our replica has slightly shorter features to make it a more attractive!!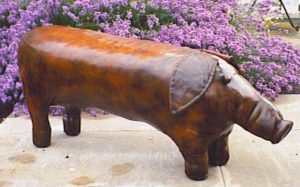 Method of Construction
The same methods and tools as those originally employed are used to make the pig. The main difference is that the original pigs were made from pigskin. This ceased in the mid 1970's when suitable pigskin was no longer available and cowhide used instead. Our cowhide is British sourced, tanned specifically for our purpose. We use the top grain which means natural markings continue to show.
There is a strong internal metal and wooden frame which gives the piece rigidity. Woodwool, a natural product made from soft wood, is used to pack around the frame and forms the features of the animal. The woodwool is packed in firmly using an array of specialised tools. This is an strenuous job which takes considerable time and can only be completed by craftsmen with several years training.
The combination of frame and woodwool enables the piece to be used as a footstool and as an occasional chair. But please note they are made as a decorative piece and not to furniture standards.
Once assembled, the leather is hand stained mahogany brown followed by various coats of finishing products. The animal is given a pair of eyes and now he or she is ready to join you in your home!