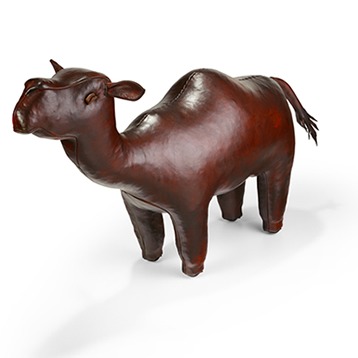 Code:

ME/6004

Dimentions (mm):

700

(L) x

250

(W) x

510

(H)

Weight:

Approx

5

KG
Product Information
Our leather camel footstool was first released in 2006! We are very pleased with our new "snooty" leather camel. For our version with saddle bags refer to code ME/6014. Due to his shape, this piece is less practical for use as a footstool however, it still contains the same sturdy internal frame structure as all our other pieces.
Our animals are made from top grain British sourced cowhide leather. No attempt is made to hide natural markings on the skin which we use to enhance the appearance of the animal.
Every (4 legged) animal has a strong internal metal and wooden frame which gives the piece strength and weight. Woodwool, a natural product made from soft wood, is used to pack around the frame and to form the features of the animal.This is an arduous job which takes considerable time and can only be completed by craftsmen with in house training.
The combination of frame and woodwool enables the larger animals (standard size and upwards) to be used as a footstool or as an occasional chair. But please note they are made as a decorative piece for the home and not to furniture standards.
Once assembled, the leather is hand stained mahogany brown followed by various coats of finishing products. The animal is given a pair of eyes and now he or she is ready to join you in your home!